Asdfmovie10 is the tenth installment to the asdfmovie series. It was released on April Fools' Day 2017.
Script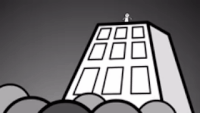 (Guy 1 is the top of a building, strong winds)
Guy 2: NOOOO!!! DON'T JUMP!!!
(Guy 2 pulls out video camera)
Guy 2: Okay! Now jump!
*Funky music and title screen*
*static*
Man 1: You want a piece of me?!
Man 2: Yeah!
(Man 1 takes off a piece of his torso)
Man 1: Well, here you go then!
Man 2: Thanks!
(Man 2 walks away)
*static*
Mom: Hey kids! Who's ready to draw?
Kids: Me! Me! Me! Me! Me!
Mom: Okay then...
(Mom pulls out gun)
Mom: Draw!
(gunfire)
*static*
Sam: Okay! Hit the apple!
(arrow hits the apple)
Sam: Yeeaa…!
(tree falls onto Sam)
*static*
3D Guy #1: Hey! What time is it?!
3D Guy #2: It's medication time!
(Gulp + 3D Guys turn back to normal + pop)
Guy #2: This is better.
*static*
Basketball: Haha! Chase me, Suzie! Chase me!
(Car Horn + Splat)
Basketball: *deep voice* Mmm... Good...
*static*
Snake Arms Girl: Heeey... I'm not like other girls. I have SNAKE ARMS.
(exposes snake arms to funkier music)
*static*
Guy: I'm sorry, Jim, but I'm gonna have to let you go.
Jim: No, please! (Zooms out, and Jim is revealed to be a balloon)
Guy: (Lets go of Jim)
Jim: NOOOOOOO!!! (floats away)
*static*
Near Boy: (points away) Is this you?
Far Boy: Yes!
Near Boy: Hello!
Far Boy: Hiii!
*static*
Man 1: Hey. Here comes that trainsgender guy.
I Like Trains Kid: (Off-screen) I like trains.
*both are hit by a train*
*static*
Kid: I wish I could fly!
Genie: (snaps) Your wish is granted! (Magical sparkles)
Kid: Yaaay! (Jumps up and hits the ceiling + splat)
*static*
Sheep #1: ♪ Beep beep, I'm a sheep. I said beep beep, I'm a sheep. ♪
*sheep #2 bleats*
*static*
Guy 1: You know what I hate? Child murderers.
Guy 2: Oh no! Here comes one now!
Child: (giggling) (chasing guy 1 and guy 2 with a blood-stained knife) I'm gonna getcha!
*static*
Diver: (jumps) Cannonballllll... (Keeps flying and eventually hits a pirate ship, whooshing winds)
Pirate: Yarrr! (Ship sinks + explosion)
*static*
Remix Sheep: (extremely funky music) ♪ Beep beep, I'm a sheep, I said beep beep, I'm a sheep. (x2) ♪
*static*
Happy Father: My beautiful baby! This is the happiest day of my Life!
Lady: ♪ If you're happy and you know it, clap your hands! ♪
(Happy Father accidentally drops the baby to clap his hands, baby splatter+ clap clap)
*static*
(two women appear, one opens her mouth real wide and someone is inside of there)
Goggles Guy: Have you seen mah leymons? I want mah leymons.
*static*
Fat Guy: I don't wanna be fat anymore... (pulls up a gun while crying, eats the gun)
*static*
Skateboarding Cow: ♪ Meow meow, I'm a cow. I said meow meow I'm a- ♪
Sheep: NO!!!
*static*
TomSka: Hey you! if you like asdfmovie you should probably buy an asdfmovie T-Shirt! I promise I won't spend your money on food! Nah, I'm totally gonna spend it on food.
Gallery
Cast
Jacksepticeye
Dan And Phil
Eddie Bowley
Erin Breslin
Gabriel Brown
Luke Cutforth
I Like Trains
Elliot Gough
Edd Gould (archival recording)
Rebecca Parham
TomSka
Mike and Jacob Trueman
Trivia
The "Is this you?" joke was written only hours before asdfmovie10's release, as TomSka only wanted to use the funny voice.
The "Child Murderers" joke was originally about Child Molesters, but TomSka changed the joke after deciding it might be going too far.
Ridgewell has stated that this is one of his least favourite asdfmovies because the jokes are too direct.
The 15th skit served as a teaser for the Beep Beep I'm A Sheep song.
Internal Links
Community content is available under
CC-BY-SA
unless otherwise noted.