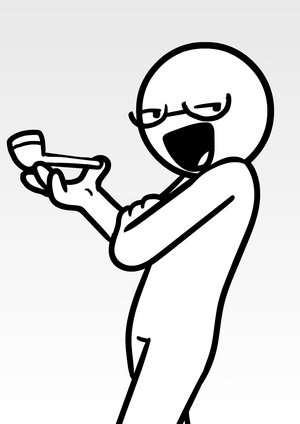 Hungry's Dad is, as his name implies, Hungry's father who appears alongside her in asdfmovie9. He is a common "annoying dad" trope— he tells a "dad joke" that irritate his daughter. However, his line of "Hi, Hungry! I'm Dad!" is actually not a joke; his daughter actually is named "Hungry".
While a generic asdfmovie character in asdfmovie9,in his reappearance in "THE MUFFIN SONG" he resembles the I Like Trains Kid's father, with glasses and a pipe. He performs the "Hi, hi hi," line in the chorus of "THE MUFFIN SONG".
Community content is available under
CC-BY-SA
unless otherwise noted.