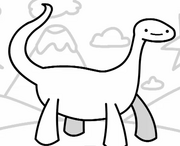 I am a Stegosaurus! is a skit. It appeared in 2 asdfmovies.
Characters
Script
#1
Man: (Walks out of time machine) IT WORKED! MY TIME MACHINE WOR-
Historically Inaccurate Dinosaur/Apatosaurus: (Stomps on Man and time machine) I am a stegosaurus! (With a bird tweet in the background for jungle effects.)
(From asdfmovie: deleted scenes) Mom: No, Susie! Don't walk in the road!
Susie: Look, Mom, I made it! (Gets crushed by dinosaur)
Dinosaur: I am a stegosaurus!
#2
Community content is available under
CC-BY-SA
unless otherwise noted.